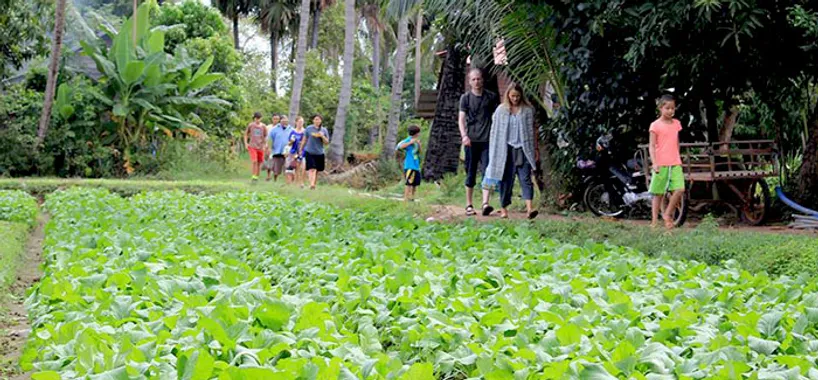 We are pleased to offer visitors the unique opportunity to visit the local village where HELO School is based. Located just 15 minutes from the center of Siem Reap, our school is nestled in the heart of the lush Cambodian countryside, surrounded by beautiful farmland. 
During the tour, you can witness traditional farming practices and learn about cultivating local fruits and vegetables. You will also get to experience traditional crafts from the region and learn about the rich cultural heritage of the local community. 
This is a fantastic opportunity to gain an insight into the daily lives of the people who live in this beautiful and vibrant part of the world.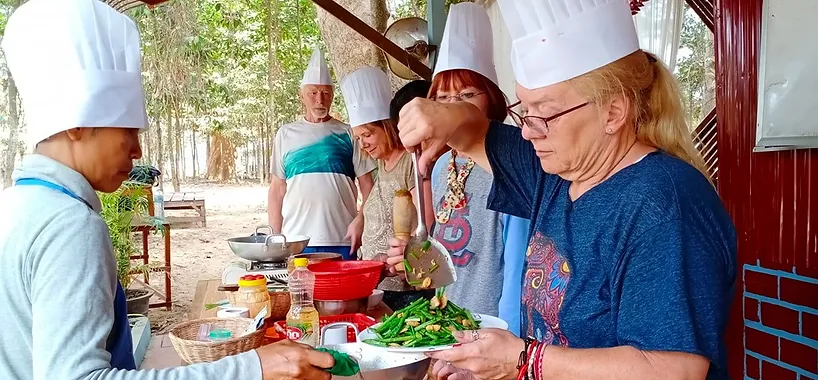 Are you interested in learning how to cook authentic Khmer food like the ones you enjoy at restaurants? Then our cooking class project is perfect for you. This initiative runs alongside the school programs, and it offers visitors and tour organizers in the Siem Reap Province a half-day experience of fun and learning how to cook Khmer cuisine.
Under the guidance of a local cook, you will have the opportunity to learn how to prepare traditional and delicious Khmer dishes. The cooking class includes visiting the local market to witness the action and learn about the produce that will soon become your food. It is a unique and unforgettable experience for those who want to do more than just sightseeing and want to immerse themselves in the local culture. Join us for a fun-filled day of cooking and learning about Khmer cuisine!
Kreative Kids Arts & Reading Center
HELO! We have an exciting project to share with you for the Fall Semester of 2023. We are looking to remodel the library at HELO School into a vibrant arts and reading center for kids. By transforming the library into a dual learning center, we hope to give kids a space to create and learn simultaneously.
The new center will provide children various art supplies, including paints, markers, canvases, and more. They can let their imaginations run wild and create their masterpieces. In addition, the reading corner will be stocked with books of all genres, allowing kids to explore their interests and discover new ones.
This project is vital because every child should have access to a safe and inspiring space to learn and grow. Could you help us reach our goal of $850? By donating to this project, you will be helping us create a space that will benefit the kids at HELO School for years.
Thank you for considering supporting this project. Together, we can make a difference in the lives of these children and give them the tools they need to succeed. Visit us at www.heloschool.com/donate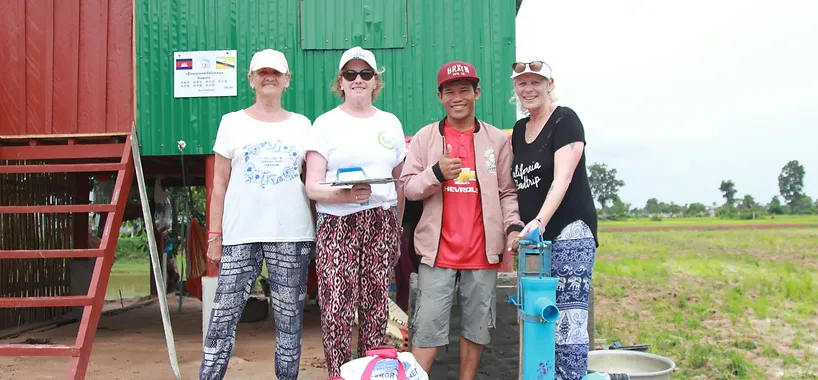 Our Happiness and Education for Life Organization (HELO) school is not just focused on providing free education to underprivileged children and young adults in the Siem Reap Province of Cambodia. We strongly believe in the importance of community development and working towards creating a better life for everyone. We have taken up a project to help build houses, toilets, and water pumps for poorer families in the local community and countryside.
Our project is funded by private and group donors passionate about positively impacting the lives of those most in need. By building a house for USD 1,500, a toilet for USD 700, or a water pump for USD 250, we can help provide necessities to those who might not have access to them otherwise.
Our mission at HELO is to improve the living standards of our students and their families while reducing the number of young people who drop out of school. Through our community development projects, we strive to create a sustainable environment where everyone has access to basic amenities and the opportunity to lead a better life.
Every little effort counts, and through our combined efforts, we can build a better tomorrow for the less fortunate in Cambodia. Join us in this journey towards creating a brighter future for all.
Our volunteer project at Happiness and Education for Life Organization (HELO School) and Lotus Light Center for Community Advancement (LLCCAA) is dedicated to free education for underprivileged children and young adults in Speankaek and Phum O villages in Siem Reap, Cambodia.
Our school is strongly committed to teaching English and good morals to our students, with the help of English-speaking volunteers working alongside local teachers. Our classes run Monday to Friday from 8:00 am to 10:00 am, 2:00 pm to 4:00 pm, and 6:00 pm to 8:00 pm.
With the support of our dedicated team and generous volunteers, we are making education accessible to those who need it the most.
If you would like to make a repeat donation, please don't hesitate. Your contribution will help us provide free education to underprivileged children and young adults in Cambodia's Siem Reap Province. Thank you for being so supportive!